View the connected packages
Concerts in the garden of the Casa-Museo Remo Brindisi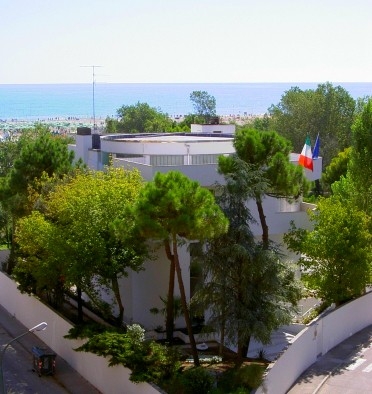 A series of evening musical events in the enchanting garden of the Remo Brindisi House-Museum, a place of culture, creativity and innovation. All the concerts will start at 9.30 pm.
As Madalenas – Wednesday 17 July 9.30 pm
The duo composed by Cristina Renzetti (vocals, guitar, percussion) and Tati Valle (vocals, guitar, percussion) presents "Vai Menina", their new record full of unpublished works and reworkings of Brazilian composer songs.
Venti di Faber, tributo a De Andrè- giovedì 25 luglio ore 21.30
The music of Fabrizio de Andrè, 20 years after his death: not only the most famous successes, but also less known masterpieces of his rich discography. Fulvio Bertolino (vocals, guitar, harmonica, bouzouki, flutes), Roberta Righi (Voice), Stefano Pavani (guitars and choirs), Nicola Morali (Piano and keyboards), Stefano Melloni (Flutes), Pamela Falconi (transverse flute), Olimpio Forti (bass), Stefano Zeni (violin), Stefano Peretto (drums and percussion).
Sarah Jane Ghiotti – Wednesday 31 July 9.30 pm
Presentation of the album "In mancanza d'aria", paying tribute to 3 great composers: Edu Lobo, Milton Nascimento and Guinga.
Sarah Jane Ghiotti (voice), Andrea Taravelli (basso), Simone Migani (piano), Pasquale Montuori (drums).
Michela Calzoni ft. Giorgio Cavalli – Wednesday 7 August 9.30 pm
Michela Calzoni will perform a journey through some of the most representative pieces of the blues repertoire and will be accompanied by a legend of Italian blues, the guitarist "Mr Blue" Giorgio Cavalli.
Le Scat Noir, Jazz Vocal Trio – Wednesday 21 August 9.30 pm
An all-female trio, proposing unpublished, jazz standards, pieces of ethnic and cultured extraction, arranged for three voices, piano and violin.
Natalia Abbascià (voice and violin), Ginevra Benedetti (vocals), Sara Tinti (voice, piano).
The Bluesman- Wednesday 28 August 9.30 pm
A quartet born in 1993 to revisit the acoustic blues classics in a personal way. The bluesmen are: Roberto Formignani (guitar, harmonica and vocals), Massimo Mantovani (piano and organ), Roberto Poltronieri (bass, double bass, banjo, pedal steel), Roberto Morsiani (drums).
More info 0533.314154.